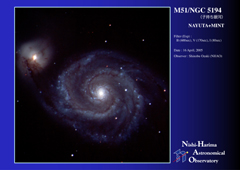 We provide astronomical images and videos obtained with NAYUTA telescope (2 meters) and other telescopes. Please look at "Copyright Notice" before you make use of them.
Copyright Notice
You can freely use all images and videos in NHAO web pages if you purpose is private use, publication, news report or education. If you use images/videos for publication or news report, you'd better to let us know your usage. Please contact us when you use them for another purpose than that mentioned above. We don't renounce copyrights of contents in our web pages, and you should indicate a credit (ex. (c) NHAO ) cleary.
---
© Nishi-Harima Astronomical Observatory 2009, All rights reserved.