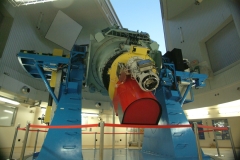 NAYUTA Telescope is the largest telescope in NHAO. Its 2-meter primary mirror is the largest kind of it in Japan (without SUBARU telescope, which is located at Mauna Kea in Hawaii). And one of the largest telescope in the world through which visitors can gaze heavenly bodies.
We started operation of NAYUTA telescope in November 2004. Now we mainly use it on the star-gazing session every evening.
If you are interested in the academic use of this telescope, please visit the the page about open-use.
Specification of NAYUTA Telescope
Primary Mirror

effective diameter: 2000mm
prime focus/F1.5

Optical System

Ritchey-Chretien telescope

Foci

Cassegrain (F12) / Nasmyth-1 (F12) / Nasmyth-2 (F5)

Mount

Altazimuth
Eyepiece
High definition color video camera
Optical multi-color imager
Optical long-slit spectrograph
Near-infrared imager


Altitude

449m

Latitude

35d 01m 31s (+35.0253d) N

Longitude

134d 20m 08s (+134.3356) E
Counstructed by Mitsubishi Electric
---
© Nishi-Harima Astronomical Observatory 2009, All rights reserved.