Daytime Sessions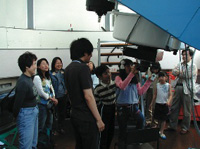 In the daytime on Sundays, public holidays and during spring and summer vacation term, daytime star parties will be held from 1:30 p.m. and 3:30 p.m.. You can see planets and bright stars with the 60cm reflector.
Nighttime Sessions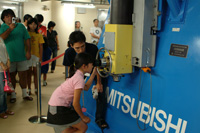 The star-gazing session will be held on everyday without a day closed, from 7:30 p.m. to 9:00 p.m.. On Monday to Friday, only visitors stay at the lodges can attend. Please look the reservation page (Sorry, Japanese only). On Saturdays, you need reservation to attend the sessions. Please contact us.
In the sessions, you can see various objects with the 2-meter "NAYUTA" telescope such as the moon, planets, stars, clusters, nebulae, galaxies, and so on. On the other hand, we guide stars and constellations like a planetarium under the real sky.
Objects you can see depend on the date. Let's enjoy the stars and other objects in season.
---
© Nishi-Harima Astronomical Observatory 2009, All rights reserved.