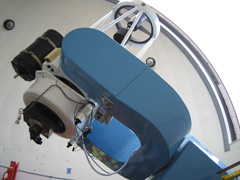 60cm telescope was the main telescope of NHAO from 1990 to 2004 (operation of NAYUTA telescope began).
Now we use it for daytime star-gazing session, educational observation, engineering observation, and so on.
Specification of 60cm Telescope
Primary Mirror

effective diameter: 600mm
prime focus/F1.5

Optical System

Cassegrain telescope

Focus

Cassegrain (F12)

Mount

Equatorial

Instruments

Eyepiece
Low-dispersion optical spectrograph
Constructed by Nishimura
---
© Nishi-Harima Astronomical Observatory 2009, All rights reserved.